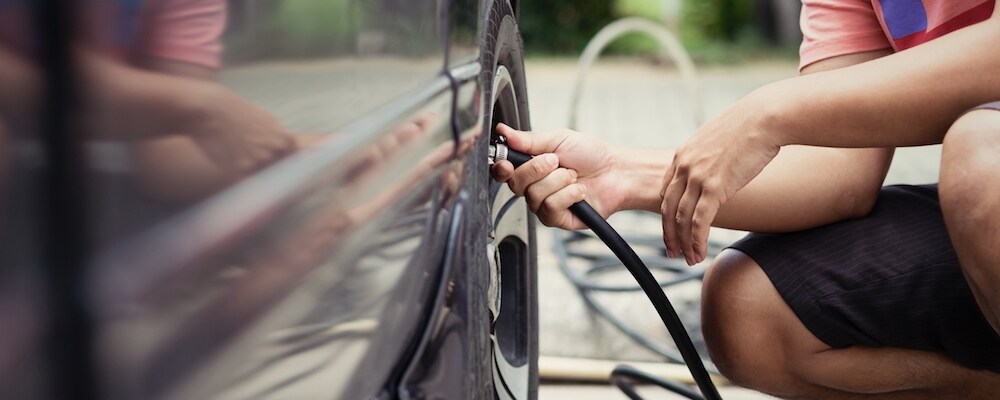 Maintaining the correct tire pressure for your tires is key to ensuring optimal performance of your Hyundai on O'Fallon roadways. While each vehicle has its own ideal tire pressure levels, Hyundai has made checking tire pressure easy. Review our quick guide to maintaining the right tire pressure for your Hyundai and hit the St. Charles streets with confidence.
Hyundai Tire Pressure Monitoring System (TPMS)
Newer Hyundai models and conveniently equipped with Hyundai TPMS, a tire pressure monitoring system that keeps tabs on the exact pressure in each tire. Once you turn on your vehicle, your Hyundai will start evaluating the tires' levels, displaying their measurements on your dash within a few minutes. If the system detects that any tire's pressure is too low, it will alert you and indicate which tire needs air and how much. If a tire flashes red, it is in need of assistance.
If your system is still alerting you to an issue, despite having just filled your tires to the proper psi, it's possible a service professional may need to perform a Hyundai TPMS reset. The certified technicians at the Suntrup Hyundai West service center can evaluate your system for issues and perform a reset if necessary.
Tire Pressure Tips
Due to an increase in friction between the road and the tire, tires with low pressure can result in extra wear and tear on your wheels. Not only can this lead to tires needing to be replaced more frequently, but it can impact traction and driver safety. Review our tips below to make sure your tire pressure remains consistent:
Make sure to check your tire pressure at least once a week. You can do this by viewing your TPMS Hyundai display on your instrument cluster.
Know that, depending on driving habits, tires can naturally lose 1-2 psi per month.
Pressure can fluctuate with shifts in outside temperature, especially in extreme cold.
If you notice a tire needs air frequently, it's possible there is a hole or nail in the tread causing a small leak. This can be an easy repair when caught early.
Here for All Your Hyundai Service Needs
If you are having issues getting your tires to maintain pressure, schedule an appointment with the experts at Suntrup Hyundai West. We are here for all of your Hyundai service needs in Wentzville and the surrounding areas. Check out our service specials to save more on all your service needs!